Messages
@ "report" button on messages doesn't work so please don't use it
@ you have a folder inbox where you receive all messages...
@ when you are a Shadow Lord, you have more options:
write message (sending messages to who you want)
blocked players (you can block other players to not receive messages from them)
manage folders (add folders, rename them, delete them)
Settings (set up in which folder you wish your messages)
and up to 5 extra folders
Hideout
>>>>> click here for Hideout <<<<<
@ On link above, you will find everything about Hideout.
City
>>>>> click here for City <<<<< (still need)
@ On link above, you will find everything about City.
Raid
On left side you see this:
@ You can search on random or you can put the nick which you want to attack.
@ Attacking is the main point of this game.
More attacks you made, more gold you take. More gold you take, better skills you have.
On right side you see this:
@ You have 2 hours of manhunt (4 hours for Shadow Lord players).
@ You can choose the amount of time you want your character to spend in "man hunting", from 10 minutes to 120 (240) minutes. When you are in man hunting, you'll see this picture:

@ Manhunts bring you "booty" (the amount of booty is equal to the gold amount you receive, for example if you get 301 l of blood, in case that you're a vampire, kg of meat in case that you're werewolf, that amount is equal to 301 gold). Your total booty is shown on the "Overview" page under the part on your right, called "Statistics".
@ Manhunts also bring "experience", which is used for upgrading your character level.
-Tip: Manhunts are better when done by 10 minutes but then you have the possibility of hitting lanterns.
@ Lanterns, occur when 10 minutes manhunt is being executed.
When you hit a lantern, you don't get booty/gold nor experience.
There are many different messages you get when you hit lanterns, here's one of them:
@ You can not attack anyone when your health is under 25.
@ Also you can not attack someone when his health is under 25 and you get this message:
@ If your target is already attacked in the last 60 mins, then you will get a message like this: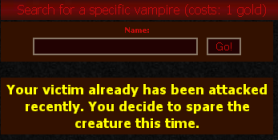 @ Between attacks on other players you have to wait 15minutes (5minutes for
Shadow Lord players).

@ Sometimes you will get message that says you can't find any victim.
@ Raising charisma and upgrading your hideout helps you on this.